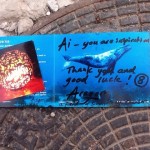 Beijing is massive, as you might expect. The centre of the vortex in many respects …and on many levels. The capital city of the words biggest population and the soon to be, (if not already), the worlds most powerful global empire could not be anything but what this is. A labyrinth of human activity on an oceanic scale. The sustainability of which is anybody's guess….
Landing in the hands of my old acquaintance and now good new friend, Simon Kirby, has been an invaluable blessing. I knew little of his language talents and cultural astuteness when we shared brief encounters in London over the years, years ago. He hails from my Leamington Spa posse of friends, who I met at university, Gordon being my hub. But inclusive of other renegades, such as Rick, our Tibetan specialist and Howard the incorrigible schemer of business, political or "charitable projects". Simon, like me, was a frequent visitor to the famous Camberwell art squat community in Bavent Road, before it's demolition. Simon also held court in The Tardis, a semi-underground, alternative culture office, art studio, party hub in the old station chambers on Farringdon road.
Simon is a Chinese scholar from Edinburgh Uni, fluent in Mandarin, who has been visiting China for 25 years and living in China and Taiwan for the past 10 years. He has now worked his way to the centre of the blossoming Chinese contemporary art scene, where he is the director of an art gallery called Chambers Fine Gallery for a Chinese American owner who runs the sister gallery in New York. It is a very impressive establishment, representing many of the top names in Chinese contemporary art, including the famous Ai Wei Wei. The gallery is housed in a complex designed by Wei Wei and is characteristic of his distinctive architectural style. Pure functionalism, diagonally-inclusive, not grid-rigid, constructed with material economy…ie concrete column and beam structures with brick infill and limited glass, when necessary. The resulting environment is a treat of internal cleanliness, well light white walls, high ceilings, sky-lights, leather sofas and all the art books and publications on Chinese art you would ever need. I really feel the spirits of accumulative friendships and destiny have treated me well to place me in this milieu. Thank you G and Rick, for setting me on this course, which was not planned until a month ago! I could not be any better positioned to get a very deep and concise over view of the what's happening now from the heart of the vortex.
Getting this introduction to the Beijing art world has made for a busy time in mind and body….reducing the daily blogging opportunities that the Changchun routine offered. Hence I snatch a moment whilst sitting in traffic, getting around the mega-maze that this ancient capital has become. The taxis' are still relatively cheap and abundant, so to reduce the chances of being lost for ever more in the subway or bus system, it is the convenient way to go. Yes I know…the emissions , the smog….the self strangulation . I did plan to get around by bike and even attempted renting one for a day…until the relentless rain that day forced me to ask for my money back, which was duly given! It is mind boggling to think back on ones preconceived notions of China, fed in as a child and growing up believing still exist! Scenes of the millions of bike riding workers are long gone, that's for sure. Think of the same density as those old bicycle images and imagine now new shiny cars, taxis, endless laden trucks, busses and (some good news) electric bicycles. Same streets though, with the exception of the rings of ring roads now encircling the city…..six I think at last count!
Any way back to the art world….a number of visits to the famed 798 district have been insightful and myth dissolving. This area is a government approved "art zone" that was at one time, 10 plus years ago, a rough and ready art squat environment….in an old factory complex, that was until recently, making arms of varying sorts for the PLA….Peoples Liberation Army. Perfect irony and reflective of the changing China one might think….well not exactly, they haven't stopped making the arms….they have just decided to make art and arms, but have moved the arms out of town. The 798 is New York's Soho, post-wall Berlin's Kroitsberg, that maybe was once briefly a sort of Christania , but is now near to a mix between Camden and Amsterdam's gallery district……The small portable art – design items, custom jewelry, book shops and cafes are mingled in with some big name galleries, and some wannabe big name galleries. A few artists still live there, but the art anarchy (that sort of was) has been tempered … Simon says, and you can feel it. The atmosphere is casual, family friendly, car free, with big trees in-between the big buildings, pipe cooling systems, gantries, huge steel sculptures and a horizon of chimney stacks. Still definitely a nice place to hang out, wander around and get a feeling of artistic freedom as condoned by the state.
It is not the discrete elite atmosphere of Caocangdi, where the galleries are spread around what was once the fields of an agricultural commune. The village council that still controls this land linked in with Ai Wei Wei, amongst others, and have converted their fields into light industrial units and quiet walled-in art gallery compounds or works units and private houses. It is well kept and clean. The government has little to do with it apparently, and it could be hailed as a model bit of people power land use. The neat new development zones are a total contrast to old "village" jumble, which resembles a Moroccan souk, complete with dug up paths, poor drainage, piles of garbage laundry across the alley etc. Many of the houses don't have running water so there is still an active communal bath house. The streets are dug up to try and install some basic services….but still the atmosphere is somewhat medieval. The old commune meeting meeting-house, is a tiny cabin with a clay tiled roof. It has been turned into an irey low-ey chill-out restaurant, decorated with the owners fun collection of kitsch junk, old radios, toys, Maoist posters and portraits of workers and family members. For Simon , its his daily home from home lunch venue, (his pack of cigarettes is kept behind the counter!) and good place to bring some of the high end clients for some grounding.
I cracked the subway system the other day, when going out to visit the sculpture workshop that made my ball on the outskirts of Beijing. It is actually a very modern, slick and efficient mass-transit system, that has taken many of the good aspects of the London underground and upgraded it. The price of 2 RMB anywhere, puts taxi use to shame. The ticket system is paper-free and slick, you are given a plastic card which then gets sucked back into the machine at the end of your trip and recycled. Totally obvious sense. The granite and stainless steel environment is clean and refreshingly advert free in general, well signed in English, the trains quick and efficient….though well packed.
I can see a lapse in my blog coming….as the economy of train taking takes away the luxury and comfort of taxi riding. That is one reason…the other is my imminent departure to the high mountain province in mid-western China…the Qinghai region , where I will be flying to in the next 2 hours. I hope for, yet don't expect any thing as hi-tech as wifi in the ancient Tibetan monastery I intend to reach this evening, nor will the nomads I plan on seeking out necessarily have such devices. I may be wrong….but I imagine I will have to resort back to the stronger less radio-active forces of traditional telepathy!