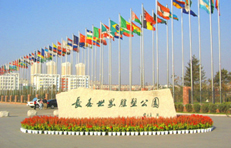 BVI born artist, Aragorn Dick-Read travelled to China in July 2011 to make the biggest Fire Ball sculpture in the world at the 12th Annual China Changchun International Sculpture Symposium. The 10-foot sculpture is twice the size of anything he has made before and made a dramatic addition to the Changchun World Sculpture Park collection. Aragorn, who carried the BVI flag and a message of greeting to the Mayor of Changchun from the BVI Tourist Board director Ms Hadassa Ward, was in China for six weeks to complete the sculpture.
"It is a great honour to have been invited by the Changchun Municipal Government to take part in this prestigious International Sculpture Symposium," said Aragorn. "I am excited at the prospect of making such a large Fire Ball and proud to be representing the Virgin Islands at this international event. Taking my art from one of the smallest countries in the world to the largest country in the world is certainly a great privilege and it is a very positive step for the BVI to be present at the frontier of global sculpture development."
The Fire Ball has become Aragorn's signature work of art. The large outdoor sculptures are made from steel spheres varying in size from 1 foot to 5 feet, from which Aragorn then cuts out intricate designs of human figures, animals, symbols and patterns. The images and scenes have their full impact when a fire is lit inside the Fire Balls, silhouetting the designs against the fire, bringing them to life and entrancing the viewer. When placed on water the impact is amplified by the contrasting elements and reflections.
The sculptures have found their greatest acclaim as the focal attraction at the "Fire Ball" Full Moon parties that have been held every month for nearly 10 years in Trellis bay, Beef Island. Thousands of visitors to the BVI have enjoyed these artistic cultural attractions and many people have commissioned Aragorn to make sculptures for their private collections. Fire Balls have been sold to collectors in the US, UK, Cayman Islands, Antigua, Guernsey and the Czech Republic. Smaller ceramic Fire Balls are one of the top selling items at Aragorn's Studio pottery shop.
The 2011 China Changchun International Sculpture Symposium was the twelfth held since the completion of the Changchun World Sculpture Park in 1997. The park is the largest of its kind in the world displaying works from 130 countries by over 400 artists. From late July to early September invited sculptors participate in the Symposium and create their works of art to be exhibited in the park.  All participants are provided with a studio, all the necessary equipment, an assistant and a translator.